Comedian BASKETMOUTH Full Biography,Life And News
|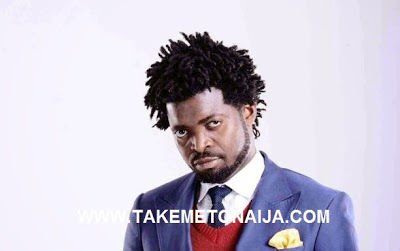 FULL NAME: Bright Okpocha (Basketmouth)
DATE OF BIRTH: September 14, 1978
OCCUPATION: Comedian, Singer,Business Man
MARITAL STATUS: Married
INTRODUCTION:
Basketmouth, is a Nigerian comedian,actor and business man. He's referred to as Nigeria's most popular and loved comedian for his comedy skills, he is quite known by many outside the country and has contributed to the growth of Nigeria comedy industry.
He has organized popular stand-up comedy concerts like Basketmouth Uncensored across the globe.
Married with two kids.
EARLY LIFE AND BACKGROUND
Bright Okpocha was born in Lagos, Lagos State , Nigeria but hails from Abia State. He completed his primary and secondary school education in Apapa, Lagos State and then moved on to pursue a degree at the University of Benin, Benin City UNIBEN where he studied sociology and anthropology with his brother, Godwin Okpocha.
In 1991 Bright discovered his skills in drumming, which he did for over 5 years after wards. During his days of being an instrumentalist for his church and a band at that point, he also discovered his skills in rap music and later diverted into that path in 1994. In 1995, he, his friends and brother formed a group called da psychopaths. It had 7 members but they split before they could even release
an album or single. Bright and his brother Godwin immediately formed a group called d oddz and later added a third member (muyiwa osunrobi). Together, they did a couple of shows but couldn't break through the music industry as their brand of rap wasn't accepted the.
For one who is regarded as one of the African kings of comedy, being a comedian had always been his lifelong ambition. "I remember a time when one of my friend's parents asked us what we would like to become when we grew up and I said I wanted to be a comedian. I must have been stupid because the idea only popped into my head and I had been watching too much Eddie Murphy… Instead of me to have said I wanted to become a doctor, lawyer or even politician for that matter, I looked straight into their eyes and said 'comedian'," Basketmouth recollects.
As expected, his friend's parents were shocked. But little did they know that his ambition was made of sterner stuff. This was about 20 years ago, a period when only a few people were really making money in Nigeria by cracking jokes. It was more fashionable to go into more lucrative professions such as medicine or law.
CAREER AND LIFE
After his failure at his first standup comedy show in Uniben he came back after a series of research
on what brand of comedy could sell in UNIBEN; that was the beginning of Basket mouth's inception and
acceptation into the world of standup comedy.
His professional stand up act came into existence in the year 2001 and his big break came when he met Ali Baba. In 1999, Basket mouth got involved in events management alongside his comedy acts. He and his friend (Bayo
Adekeye) promoted and packaged shows that featured the likes of plantation boiz, remedies, and a host of other artists.
It was during that period that Laff n Jamz was conceptualized.On the 1st of November 2000, the concept came to reality featuring Ali Baba, Paul Play, Teju babyface, mandy, Mr. Patrick and a host of others.
Immediately after Laff n Jamz in UNIBEN, Ali Baba told Bright to come down to Lagos to expose his skills. It was hard to combine studies and standup comedy but it was done. After Basket mouth featured Plantation Boiz in 2000, they asked him to anchor a monthly show that was held at the den in Ikeja. It was during that period that Bright impacted the entertainment industry in Lagos.Things got bigger and better when Bright was invited by Tequila events to perform alongside Julius
Agwu on a tour that hit over 30 higher institutions around Nigeria.
Basket's emergence in Lagos can be traced back to the year in 2000 when he performed at a concert called hanging with the home boys; his performance wowed the audience and he won their acceptance. He extended his act to the monthly motherland concert hosted by
Lagbaja. Afterwards, Ali Baba introduced him to Opa Williams who then featured him in the now most popular comedy show in Nigeria and beyond (Nite of a 1000
laughs).
The name BASKET MOUTH hit the big screen when he featured in international concerts that witnessed the likes of Joe, Boys 2 Men, Sean Paul, Beyonce, Wyclef Jean, Dru Hill, Akon, Snoop Dogg, Ciara, Chris Brown and many others. His international gig was in Europe (2003) after which he stayed off the foreign scene until his debut performance in Atlanta at the Nigerian Reunion in 2006.
This performance led to series of performances and bookings in the United States and other countries
including South Africa.Back to back through the last 4 years, Bright has won the National Comedy Award for Best Comedian of the year, Best Standup Comedian on the year (2005/6). As a follow upto the growth, he formed a company called humor unlimited (2004), (stage play) –
Devils kiss (2004), and in 2006 took it higher by forming a one man standup comedy show which made history in Nigeria [Basket Mouth Uncensored 1,2,&3].
He later established a consulting/event & Artist management company (Barons World Entertainnment) in 2006. BasketMouth is currently one of the brand ambassadors of one of the leading telecommunications companies in Africa (Globacom) till date, Basket Mouth stands out as one of the names to reckon with in the entertainment industry.
In an interview he said: And he is the first Nigerian to be on the show. So what makes this different or special from his other shows across Africa, Europe and America? "I am doing this show because it is beyond Africa. I am bringing out everything that I have to make Nigeria and Africa proud. As we speak, I have not created a set for the show yet. I am still working on materials. Although not yet finished, but the few ones I have come up with will make them laugh, by the grace of God," he replies and adds that this was not the first show he would be doing in front of an international audience. "Most people in Nigeria don't get to see most of the shows I do abroad. I have done other big events; unfortunately they were mostly private (exclusive) shows. I have done the Choice FM
comedy show in the UK, performed at the international congress in Ethiopia, where I was probably the only Nigerian in the building. I am going universal and people will get to see what I do when I perform outside Nigeria." Breaking new grounds seem to be the norm with
Basketmouth. So after Africa, what is the next step? "The world, I want to take over the world. I
am looking at the American Market. Even comedians in the UK and other places are trying to move down to America. Comedy is universal and I will like to take my act all over Africa, and to every part of the globe."
Basketmouth also has an interesting back-story. From 2006 to 2009, he performed free for prisoners at the Kirikiri Prison in Lagos. "It was my way of giving back and keeping their heads up. I went as far as Ibadan prison. I want to start doing it again from next year during festive periods."
Married and blessed with two lovely kids, when asked in an interview how he separates Bright from Basketmouth, especially at home. "That is one part people always get wrong. I am Basketmouth only when I'm on stage and Bright when I'm not on stage. Bright at home is a loving father, husband and a typical homeboy. I play with my kids and wife. She said there is no life in the house when I am
not around. I make my wife and kids laugh, and that is not me being Basketmouth; that is Bright. Bright is also a funny chap but not as funny as Basketmouth. Bright is charming and brooks no
nonsense. I have about three personalities: there is Basketmouth on stage, there is Bright the businessman, and there is Bright the family man I appreciate the three characters. If you come to my house, you will meet Bright; on stage, Basketmouth and in my office, Bright the MD of Baron's World."
He has also contributed to the boost in some popular comedians like him; Bovi, Buchi and others.. He supported their comedy career and helped them become more important in the industry like he is.
Basketmouth Will be releasing a rap album that will be featuring many Nigerian music stars on 14th February 2015.
AWARDs AND ENDORSEMENTS
In 2005 and 2006 Basketmouth won the National Comedy
Award and the Best Standup Comedian of the Year.
And many more yearly..
ENDORSEMENTS
Signed A Multi million naira ENDORSEMENT WITH DANA AIR In 2011
Was also said to have gotten a N12m endorsement deal with Surebet
He has also been an ambassador for Glo Ng and his contract was renewed many times
RUMORS AND SCANDALS
Basketmouth has been a celebrity in the industry who had kept himself off scandals but after making a joke about rape on Twitter in 2014 people counted it as a scandal for him even though the joke was misunderstood..
BASKETMOUTH AND FAMILY
BASKETMOUTH WITH BOVI AND BUCHI
SOURCES: www.takemetonaija.com,wikipedia.org