Top Ten News Stories In Nigeria Today![18/01/2016]
|
Hello readers.. Here is today's "Top ten news stories in Nigeria" brought to you by Akinola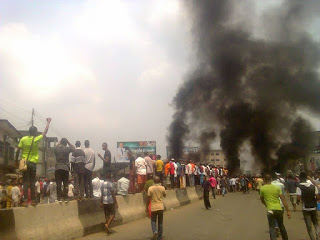 CHECKOUT OUT TODAY'S TOP NEWS:
=> Pro-Biafran Protest Turns Bloody In Aba (Graphic Photos)- Dailypost


Reports reaching DAILY POST reveal that there is an ongoing protest by Indigenous People of Biafra, IPOB, in Aba, Abia State.The
protest which started Monday afternoon, turned bloody as security
agents and members of the group are currently confronting one another.
Details shortly…
READ FULL NEWS….
=> Aisha Buhari restructures governors wives' forum – TheEagle
The wife of the President, Hajia Aisha Buhari, on Monday commenced a move to restructure the Governors Wives' Forum.
Hajia Buhari presided over a meeting of wives of state governors held at
the First Lady's Conference Hall inside the Presidential Villa, Abuja.
The President's wife said the restructured forum would serve as a
platform for the wives of political office holders to support their
husbands as they struggle to bring about the much-needed change.
She said: "As wives of political office holders, we must continue to do our best in contributing to the success.READ FULL NEWS….
=> Boko Haram Launches Deadly Attack On Mosque -AFP
According to AFP, the suicide attack occurred in the village of
Nguetchewe in the country's border with Nigeria which is has come under
constant attacks by the terrorists.
Security sources told AFP that "the suicide bomber, a young boy, arrived in the village by foot," adding that a "witness had noticed his behaviour seemed suspicious and had tried to intercept him".
"The bomber ran towards the mosque, where he set off the explosives he was carrying with him."
READ FULL NEWS….
=> DasukiGate: PDP Disowns Olisah Metuh, Other Corrupt Officials – Naij.com
The Peoples Democratic Party (PDP), has disowned its embattled
national publicity secretary, Olisah Metuh, and other corrupt officials
of the party who were indicted in the probe of the ongoing $2.1 billion
arms procurement fund.
This was contained in a release by the party on Sunday, January 17 posted on the Facebook page of APC London.
READ FULL NEWS….
=> Enugu State Warns Against MASSOB, IPOB protests-Naij.com
"The state government hereby distances itself from the planned
protest and therefore call on the people of the state to ignore the said
threat and go about their normal business as all security measures have
been put in place to forestall any breakdown of law and order in the
state.
"Consequently, we appeal to parents and guidance to advise and
watch over their children and wards to ensure that they are not being
used for such unlawful acts. We equally appeal to leaders in our various
communities, especially traditional rulers to ensure that their youths
do not engage in any activity that could undermine the existing peace
and tranquility in the state."
READ FULL NEWS….
=> Obasanjo Reacts To Dambazau Shoe Shinning Video
– Naij.com
Obasanjo via his twitter, @segunobasanjo page said it is an eyesore
for a security officer to be turned into a shoe shiner by the minister.
"It's an eyesore to see how a security officer was turned to a
SHOE SHINER by Gen. Dambazau. There's no justification for such
disgusting act," Obasanjo tweeted.
He added that: "It's really dehumanizing for a minister to have a
security officer clean his shoe in public. This is not the CHANGE
Nigerians voted for!"
In a short video that went viral over the weekend, Dambazau was seen
stretching his legs out while his aide, an SSS officer rubbed dust off
his shoes with a white handkerchief.
READ FULL NEWS….
=> Biafra Protesters Attack Rivers Residents
– DailyTrust
Angry pro-Biafra protesters yesterday vented their anger on residents of
Oyigbo City in Rivers State as they harassed, intimidated and forced
them to close their businesses and join in the protests. The protesters
who were mainly youths were angry over the continued detention of their
leader, Nnamdi Kanu, by the Directorate of State Services (DSS).
They
carried placards with different inscriptions such as; "free Kanu now",
"please don't kill our leader", "release Kanu to attend to his health".
It turned violent when they started beating up, harassing and
intimidating those that refused to identify with them. Shops and
business owners were forced to close. It took the intervention of Rivers
State government and law enforcement agents to save the situation.
Rivers State Commissioner for Information, Dr Tam George, in a press
statement issued in Port Harcourt yesterday condemned the harassment and
intimidation of residents of the state in the name of pro-Biafra
protests.
READ FULL NEWS….
=> Budget 2016: President Buhari Cuts N7 Billion– PremiumTimes
Premium Times reports that a review of the fresh copy of the budget
uploaded to the website of the Budget Office of the Federation on
Friday, January 15, showed a massive cut by about 83.5% in the total
allocation for the vehicles.
According to the revised budget, the government will now spend only
N1.34 billion to buy only five BMW saloon cars and jeeps as well as
buses for use by the Presidency during the year.
READ FULL NEWS….
=> Ekiti Records 1 Lassa Fever Case, Plans Immunization Of 500,000 Children -Leadership
Ekiti State Government on Monday announced that it had recorded one case of the dreaded Lassa Fever.
The state Commissioner for Health, Dr. Olurotimi Ojo, made this known at a Stakeholders Forum on Lassa Fever in Ado-Ekiti.
Ojo said that the patient was discovered at the Federal Teaching Hospital, Ido Ekiti at the weekend.
"The state has confirmed a Lassa Fever case that is being managed at the Federal Teaching Hospital, Ido Ekiti.
"The patient is stable and has commenced treatment," he said.
Meanwhile, the government has said that no fewer than 500,000
children will be immunised against measles in all parts of the state
between Jan. 28 and Feb.1, 2016.
READ FULL NEWS….
=> BAYELSA POLLS: Buhari will not congratulate Dickson – Lai Mohammed
If Seriake Dickson the Governor of Bayelsa State is expecting a
congratulatory message from President Muhammadu Buhari over his recent
re-election for a second term of office, he had better forget it.
Lai
Mohammed, Nigeria's minister of information and culture told
journalists in Abuja on Monday that the President would not follow the
habit of his predecessor who was of the habit of sending congratulatory
messages to winners of elections regardless of party affiliation
immediately after announcement of results.
Governor Dickson of
Peoples Democratic Party was recently re-elected for a second term in an
election that was marred by violence. He defeated Timipre Slyva of All
Progressives Congress, APC, the party of President Buhari.
READ FULL NEWS….
Follow Akinola On Twitter Here