Top Ten News Stories In Nigeria Today![22/11/2015]
|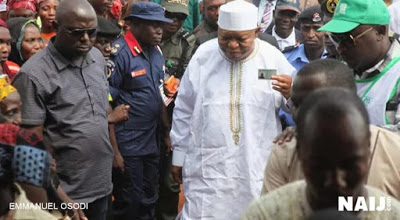 Here is a new category introduced on T.I.N Magazine, it is called "Top Ten News Stories In Nigeria Today" this will be a daily editorial brought to you by Akinola.

It will comprise of ten news stories every Nigerian should read today, it caughts across; Politics/Government/Local/Entertainment News. Brought to you from different sources and where you can read the full News!
This editorial will be featured on this platform daily at 5pm! Keep checking!
ENJOY TODAY'S LIST:
=> Kogi: APC Candidate Audu Reportedly Dead – Saharareprters,Naij.com
According to Sahara Reporters, Audu passed away of undisclosed medical
reason just after the Independent National Electoral Commission (INEC)
had announced the results of the voting and had declared the election
inconclusive.
READ FULL NEWS




=> INEC Declares Kogi State Election Inconclusive




=> Nnamdi Kanu May Have Died" MASSOB Faction Claims – Vanguard
The leadership of a faction for the Movement for the Actualization of
the Sovereign State of Biafra, MASSOB, weekend, alleged that Nnamdi
Kanu, the promoter of Radio Biafra, detained by security operatives, may
have been murdered.
READ FULL NEWS…………….
=> Video of Nigerian Maid Fanning her 'Madam' at the Salon for 2 Hours goes Viral – Bellanaija.com
A
Facebook user, Francesca Joseph-Esenwa's video of an underage girl maid
fanning her 'madam' for two hours at a salon has gone viral .
=> Unilorin Set To Use Drones For Exam Monitoring And Surveillance – Unilorin.edu.ng
If the authorities of the University of Ilorin accede to suggestions
by members of the institution's Drone Team, it is highly probable that
the University will, in future, monitor examinations conducted within
the campus with drones.
READ FULL NEWS
=> Police Arrest 21 Homosexual Students In Delta – Daily Independent
Police detectives in Asaba, Delta State, have arrested 21 students who have been allegedly involved in same sex activities.
=> Boko Haram: Nigeria Won't Hire Mercenaries — Presidency – Punch

Ahead of the December presidential deadline for the nation's armed
forces to end the activities of the Boko Haram sect, the Presidency has
said Nigeria will not seek the help of foreign mercenaries.
READ FULL NEWS
=> Jonathan Hits Back At Obasanjo -the Sun
Former President Goodluck Jona­than yesterday in United States of
America, took a swipe on the former President, Olusegun Obasanjo over
his third term bid, saying that if not for a vibrant parliament in
place, he would have had his way.
=> I would have been a post master – says Fashola
The
Minister of Works, Power and Housing, Mr Babatunde Raji Fashola, may
have ended up being a post master, but for his passion for litigation as
a young lawyer.
This Editorial Is Brought To You By Akinola Follow My Frontpage For Consistent:
Trending World News
Nigerian News